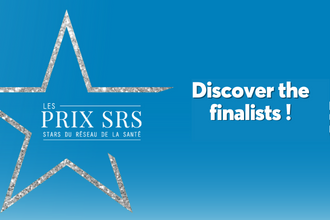 Announcement of the finalists for the 3rd edition of the SRS Award (Stars du Réseau de la Santé)
19 November 2021
MONTREAL, May 7, 2021 – The Caisse Desjardins du Réseau de la santé is pleased to announce the finalists of the 3rd edition of the SRS awards. 
This virtual award, which took place on May 7, recognized 20 health and social services professionals who have distinguished themselves in their field. These finalists, divided into 4 categories (simple, human, modern and efficient) shared a total of $20,000. A jury of 16 professionals and managers selected the winning projects. To discover the finalists and learn more about the various initiatives implemented by these network players, visit the www.caissesante.ca/en/srs-awards/ 
"As a financial institution exclusively dedicated to professionals and workers in the health and social services sector, the Caisse Desjardins du Réseau de la santé is pleased to have created the SRS Awards, which not only recognize the excellent work done by these professionals, but also allow them to be recognized by their peers for the various initiatives they have put forward in their department or establishment. In this particular year, marked by the pandemic, this recognition is more than deserved," said Martin Levac, Executive Director.
This 3rd edition, which was presented in collaboration with The Personal, the APTS, the FIQ and the Corporation des Paramédics du Québec, was a real success, with no less than 120 applications in the 4 categories.
We are also pleased to announce the 4th edition of the SRS Awards in 2022.
ABOUT US
The Caisse Desjardins du Réseau de la santé is the specialized group for the health, social services and life sciences sector for Desjardins. Serving exclusively students, professionals and retirees, its team is made up of advisors who know the reality of the field, its constraints and opportunities.
INFORMATION :
Annick Boismenu, MSc, DESS
Communications, Marketing and Associative Affairs Manager
Caisse Desjardins du Réseau de la santé
1 877 522-4773, ext. 7006 208
Annick.boismenu@desjardins.com
www.caissesante.ca